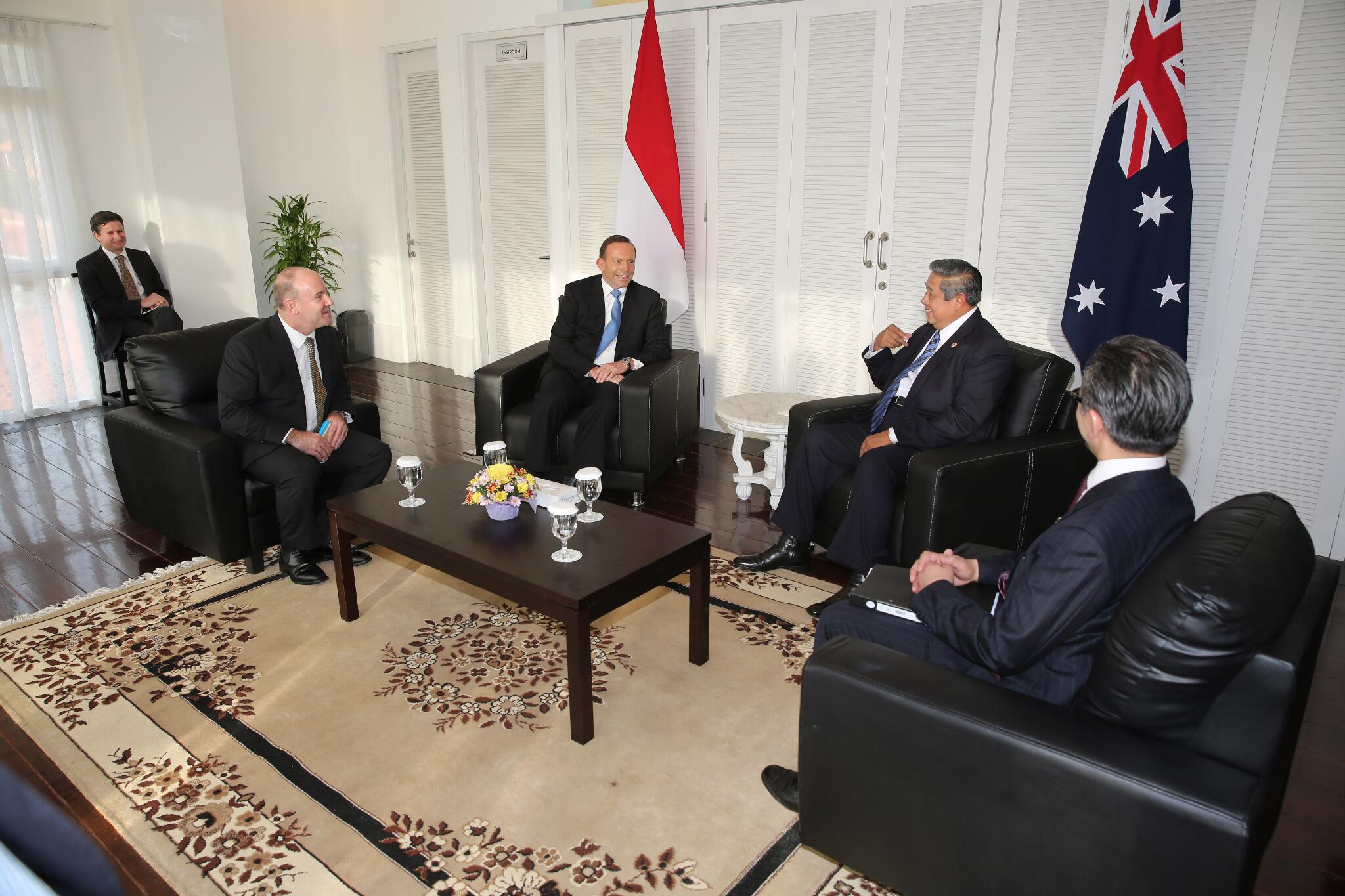 As the sun set on the Indonesian resort island of Batam yesterday, Indonesian President Susilo Bambang Yudhoyono waited patiently with two of his ministers to greet Tony Abbott for the first time since the intelligence row between the two countries erupted last November.
Abbott was running a few minutes late after mechanical problems delayed his RAAF jet on the runway in Canberra for two hours, a metaphor for the exogenous factors – new boats, new leaks – that threatened to prevent the meeting from taking place. But there were no surprises yesterday, and the the RAAF made up the time. After a forty-minute meeting, the two leaders emerged to tell the press that relations were on the mend.
There is little question that both leaders would like to put the disruption of the last few months behind them, and diplomats on both sides worked hard during that period to make a rapprochement possible. But the fading light of the sunset on Batam should remind us that the end of SBY's decade in office is also near, and a new Indonesian president will soon come to power.
Personal ties between Australian and Indonesian leaders are key to the maintenance of good relations in the absence of stronger economic or people-to-people ties.
Abbott will need to quickly establish a rapport with his new counterpart to prevent new dustups (perhaps further disclosures from the Snowden files) from doing serious damage to the relationship. His first opportunity may come in November at a series of three international summits which Abbott and SBY's successor are scheduled to attend, including the G20 in Brisbane.
SBY's willingness to meet with Abbott on an accelerated timeline, ahead of the conclusion of a code of conduct on intelligence, surprised some in Jakarta. SBY's affection for Australia, relative to other Indonesian officials, likely played a part. SBY put substantial effort into the improvement of the bilateral relationship in his first term, and the Lombok Treaty is among his most important foreign policy legacies.
Perhaps he would be cheered to know that Australians return that affection, in their own way. In the Lowy Institute poll released just hours before the meeting, 37% of Australians responded that they admired SBY. That is a slightly greater share of the population than admire SBY back home in Indonesia, where his popularity has steadily declined over the course of his disappointing second term.
Image courtesy of @TonyAbbottMHR.